Also available here.
Yesterday was day 2 of my visit to India on the theme of violence against women, and I spent the day meeting people in some of the poorest areas of Madhya Pradesh. It was an incredibly informative and inspiring day, so I'm afraid quite a lengthy blog follows!
Even though Madhya Pradesh has seen a phenomenal 10% economic growth rate in the last five years, the state is struggling to bring everyone along in this progress. Over 30% of the state's population live below the poverty line. And what is abundantly clear right across the world is that where there is poverty, violence against women and girls is more likely.
En route from Indore to Bhopal, the state capital, I visited a Dalit community who, like the rest of their caste around India, are socially excluded from their village and wider society on a daily basis. And this exclusion perpetuates their poverty. Discrimination against Dalits makes it far more likely for them to be turned away from government services, even cheated out of land possession and entitlements like ration cards. And when they can access services, they are still discriminated against; Dalit children are often made to sit outside classrooms and are served food separately so that others are not 'polluted' by them.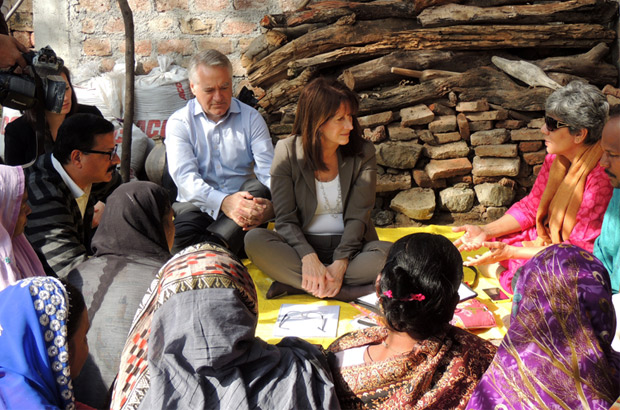 Dalit women and girls often suffer the greatest indignities – most of India's 1.3 million so-called 'manual scavengers' are female. For those unfamiliar with the euphemism, manual scavengers clean up the excrement of other castes with their bare hands to eke out a meagre existence. So I was very keen to meet some of these women and try to understand how they live.
You might be surprised to read I came away with some hope! Thanks to a partnership between the DFID-funded Poorest Areas Civil Society (PACS) programme and the Jan Sahas Development Society (which literally means 'people's courage'), Dalit women are being helped to stand up and demand their rights as human beings. Thousands of families have been helped out of manual scavenging and trained in alternate employment. Jan Sahas also brings violence against Dalit women to the attention of the government and media.
Of course there is a long way to go yet. I spoke with some Dalit women who had been raped by men from upper castes and are struggling to receive any justice. Though they worked up the courage to report the crimes against them to the police, they and their families have been repaid with threats and intimidation, not just by their rapists but the police themselves.
Nevertheless, I found hope in that more and more Dalit women and girls are standing up for themselves and demanding their rights. And when I asked what they thought about their future prospects, it was really heartening to hear a group of Dalit children tell me they were confident their future is going to be brighter than their mothers'.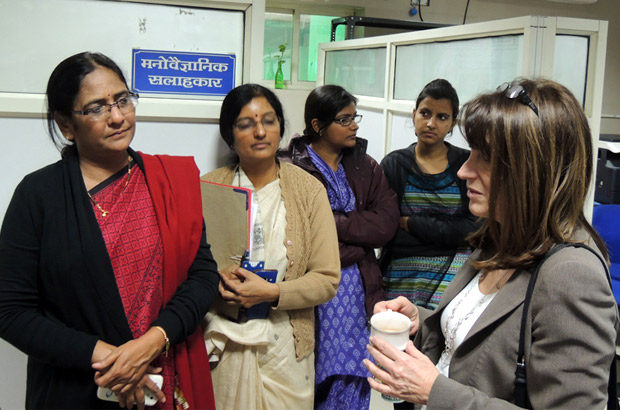 And all of that was just yesterday morning! I also visited India's first and only one-stop crisis centre for women, located within a hospital, which brings together medical, legal and psycho-social support under one roof to help women out of whatever emergency they're facing. I understand the Indian government plans to roll these centres out across the country, which would be an amazing advancement in supporting vulnerable women. I used my meetings with ministers in the state government to say how encouraged I was by progress so far and pressed them to keep the momentum up.
I also spent an hour in a Bhopal slum learning about a safe city initiative to tackle violence against women in both the public and private spaces. Quite rightly, this initiative brings together women and men, girls and boys to make their community safer for all. After all, everyone must be bought in to really make an area safe. So, for instance, the community works together to map areas of the slum where violence has occurred. I also saw demonstrations of inventive ways of engaging boys on the agenda – from a Snakes and Ladder game that challenged social norms about masculinity to a role-play drama about a woman escaping a drunk and abusive husband. And I was shown an innovative, DFID co-funded mobile phone app called SafetiPin that is utilised in Bhopal, which collates information like how safe an area is and emergency locations and numbers, and links to GPS tracking and well-monitored alarm features. I'm sure urban British women would also value an app like SafetiPin!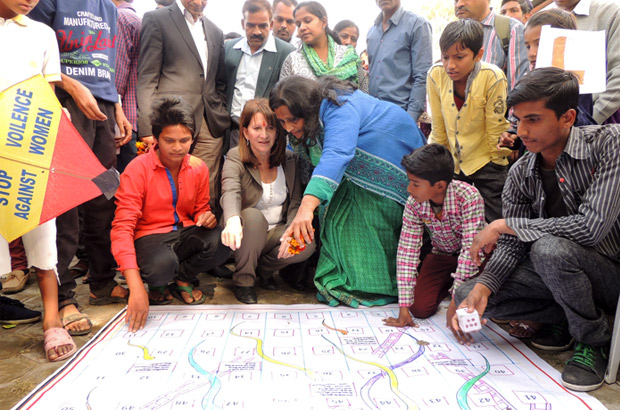 I'm now back in Delhi for a few more meetings before heading off to Burma. More updates tomorrow.